LGBT Paris : Paris is one of the world largest LGBT+ cities like San Francisco, New York, London, Berlin… with an incredibly diversity of art, sightseeing, history, shopping, dinning, nightlife and entertainment. In addition, France has a well developed legislation regarding the LGBT+ rights.
The Marais district and the LGBT Paris
The centrally located Marais district is THE place to explore, with Pigalle Montmartre. In the early 1900s, gay people gathered in Montmartre and Pigalle. In the mid-20th century the gay Paris moved to Saint Germain des Près in the 6th arrondissement, and by the 1960s it had shifted to Rue Saint Anne, in the 1st and 2nd arrondissement.
The Marais became the LGBT center of Paris in the 1980s. Before, the Marais was far from rainbow flags. Originally, the Marais forms, as its name indicates a Marais ( a swampy zone) a vast marshy area between the Roman road (rue Saint-Martin) to the west, the Seine to the south and the old arm of the river following the Arsenal basin to join the Place de l'Alma river. This space included some unsinkable mounds on which stood the Merovingian churches Saint-Gervais and Saint-Paul. Many religious communities settled in the Marais, close by Notre Dame cathedral. In the 12th century, the Knights Templar established a fortified church there.
In the 14th century, the eastern part of the Saint-Paul district hosts aristocratic hotels. Saint-Paul hotels became royal residence inhabited by kings Charles VII, Louis XI, Charles VII, Louis XII and François Ier. Henri II had work done there by the architect Philibert de l'Orme, before he was killed during the jousts of 1559. His widow, Queen Catherine de Medici, abandoned the hotel which was gradually demolished. Henri IV had the place des Vosges built on its site. Socialite but also Christian quarter, it has been a paradise of aristocratic and religious architecture for centuries.
Nowadays, The Marais in Paris is probably the trendiest part of town. This district is one of the most frequented by the capital. It possesses numerous museums (Pompidou Museum, Picasso museum, Carnavalet Museum (history of Paris), la Maison Européenne de la Photographie, Fondation Henri Cartier-Bresson, Victor Hugo's house…). The visit of the magnificent square (place) des Vosges constitutes the highlight of a promenade for its little park, architecture, palace, arcades, boutiques and restaurants. La rue des Rosiers, epicenter of the Parisian Jewish community, is to discover with the Museum of art and history of Judaism and the Shoah Memorial with the wall of names. The Marais abounds in fashion shops, in luxury, in restaurant bar addresses, in art galleries. The Marais is also the biggest LGBT Paris district and the biggest of France.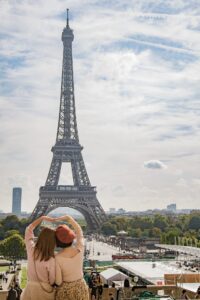 A little bit of history for LGBT Paris
Until the end of the 18th century in France, laws ranked homosexual relations among crimes deserving death. Sentenced to death, homosexuals were strangled and then burned. In Europe, homosexuality was only allowed to the aristocracy, kings and their royal court. For example, King Henri III, fourth son of King Henry II and Queen Catherine de Medici in the 1500s was more interested in his male entourage than his own wife. With his mother, they had a strong responsibility of protestant St. Bartholomew's Day massacre in 1572. Philippe d'Orléans (1674-1723) brother of King Louis XIV, the Sun King of Versailles, was well known for his penchant for men. He lived a love story of more than 30 years, in full view of everyone with the Knight of Lorraine.
July 6, 1750 takes place the last French public execution for reason of homosexuality, in Paris. The French Revolution decriminalized homosexual relations as early as 1791. However, homosexuals and transvestites were subjected to police harassment because of the laws on sexual exhibition and sexual harm against minors.
In 1942, the Vichy regime introduced for the first time different sexual majorities for heterosexual and homosexual relationships (this discriminatory legislation remained in force until 1982). Moreover, deportation of homosexuals was widespread during the Second World War, by the Third Reich, the Nazis. Gay men, and to a lesser extent lesbians, were persecuted by the Nazis and were ultimately among the victims of the Nazi regime's deportation policy. A 2009 study estimates that between 5,000 and 10,000 homosexuals were sent to Nazi concentration camps. It is difficult to establish how many of them perished there. Homosexuals were treated, in fact, in a particularly cruel manner by guards in concentration camp. This explains the particularly high case fatality rate for homosexuals in concentration camps.
Aron Jean-Marie Lustiger (1926-2007 Paris) is a prelate of the Catholic Church, archbishop of Paris from 1981 to 2005, created cardinal by Pope John Paul II in 1983. He is from an Ashkenazi Jewish family of Poland. The Second World War pushed his parents living in Paris to send him and his sister in Orleans summer 1939. The 2 kids were hosted by Suzanne Combes, a classical letters professor at the Bourdon-Blanc school and future director of this Catholic school. During the Holy Week of 1940, Aron Lustiger felt the desire to convert to Catholicism while visiting the cathedral of Orleans. All his life, he explained that his Christianity never meant renouncing to his Jewish identity. On August 25, 1940, at the age of 14, he received baptism in Orleans. He was ordained priest on April 17, 1954 at the age of 27, in the church of the Carmelite seminary, in Paris. His funeral was celebrated on August 10, 2007 in Notre-Dame de Paris cathedral by Archbishop Mgr André Vingt-Trois. Before entering the cathedral, soil collected in Israel was placed on his coffin; his cousin Arno Lustiger and his great-grand cousin Jonas Moses-Lustiger, of Jewish faith, recited Psalm 113 (112) in Hebrew, and Kaddish, Jewish prayer of the bereaved.
In France, protection against discrimination on the grounds of sexual orientation was introduced into law in 1985 and homophobic insults have been penalized since 2004. Nowadays, Jewish community and LGBT Paris community live and blossom together in the Marais, district of the City of Lights.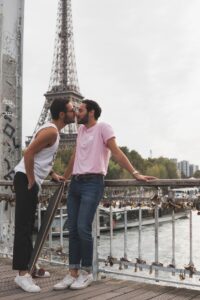 Important dates for LGBT France
In 1998, Bertrand Delanoë is one of the first political figures to have publicly announced his homosexuality 3 years before his election as mayor of Paris.
Same-sex couples are recognized by cohabitation and the adoption of the Civil Solidarity Pact in 1999.
Since 2010, transidentity is no longer considered a mental illness when until 1990, homosexuality was considered a mental illness by the World Health Organization. Now, only 8% of French people believe that homosexuality is "a disease that must be cured". They were 42% in 1975.
Same-sex couples' marriage and adoption by these couples were finally adopted by parliament on April 23, 2013 and promulgated in the Official Journal of the French Republic on May 17, 2013. In 5 years, 40,000 gay couples have married.
In summer 2019, a proposal to the National Assembly in early 2020 to prohibit the use of 'treatments of no heterosexual orientation' such as conversion therapy. Punishments would be 2 years' imprisonment and/or a fine of 30,000 euros.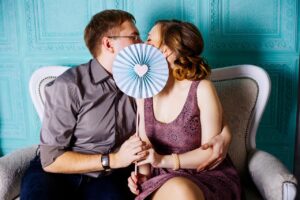 LGBT Paris and LGBT rights
From the vibrant La Marche des fiertés parade to the rainbow-washed Marais district, Paris is a safe place for LGBT+. For more than 40 years, the Marche des Fiertés Parade, lesbians, gays, bis, trans, intersex, queers, friends have been walking in a festive but political atmosphere for Equal Rights, against discrimination, to blossom in their bodies, souls, genders, lives, and families. You can hold hands and you can kiss in public, in most areas.
In 2001, the Netherlands was the first to authorize same-sex marriage. This is followed by Belgium (2003), Spain (2005), Sweden (2009), Portugal (2010), and France (2013). In 2017, four new countries legalized same-sex marriage: Malta, Germany, Finland and Austria. Within the European Union, homosexuality is legal in all member states, while discrimination in hiring has been banned since 2000. However, on certain issues, laws diverge. 16 European countries (including 14 from the European Union) recognize same-sex marriage, while 26 (including 22 from the Union) allow civil union for same-sex couples.
Paris had very bad press in 2013 when thousands, mainly a small minority conservative Catholics marched, sometimes with violence, in protest of legalized same sex marriage including homoparentality, mostly supported by members of the right and the far right. The 3 monotheistic religions members were also involved together against the marriage and adoption for same-sex couples. The present bishop of Paris, Monseigneur Aupetit supported from the beginning this protest, with Barbarin Cardinal, in the name of children's protection from homoparentality and the commodification of fertility (Note that this applies to heterosexual couples as well). To them, marriage and adoption, created to protect the child and give him a family cannot be "open" to people of the same sex. This protest was also the subject of many criticisms such as homophobia and instrumentalization of children. Exposing their offspring during protests leads to the inevitable dangers of a large-scale political rally in conditioning young people even before they have acquired a minimum of maturity to analyze their own sexual identity. Moreover, it has a terrible negative impact on children who are LGBT and/or have LGBT parents and adults as well. In the same vein and following the violent demonstration of March 24, 2013 certain media (such as Le Plus, Le Huffington Post or Rue89) evoke the use, by demonstrators, of children placed in the front line facing the CRS (French National Police). Children didn't have to be in these protests said French bishop Di Falco. Many public figures in favor of same sex marriage have been harassed by Manif pour tous activists who have been condemned. Dominique Venner, far-right essayist and opponent of gay marriage committed suicide in Notre-Dame cathedral in May 2013, a terrible drama. In 2014 and on several occasions, the ex-leader Frigide Barjot of the anti same sex marriage protest recognized and apologized for the homophobia that the movement which she led and left could have engendered. Indeed, homophobia and physical assaults in France broke records in 2013 and 2014.
1 John 4:7-8  7 Beloved, let us love one another, for love is from God, and whoever loves has been born of God and knows God. 8 Anyone who does not love does not know God, because God is love.
However, lots of parishioners, religious, priests and bishops not only in France have the will to change mentality towards the LGBT+. James J. Martin SJ, an American Jesuit priest, is one of them. He has been viciously attacked for his outreach to LGBT+ persons and LGBT+ Catholics in particular by some conservative and traditionalist Catholics. Those conservative consider being LGBT+ as a sin. By the way, we are ALL sinners. Nobody is perfect. (Questions : Is it a choice to be LGBT ? What about the bisexuals are they half sinners ? Does the Church is asking them for celibacy and chastity like it does for gay and lesbian ? What about the transgenders ? When a gay or lesbian couple want to baptized their child, what does the priest is going to say ? If the godmother or godfather is LGBT, what does the priest is going to say ?). Many of them belong to the small but loud Francis opposition, close to fundamentalist ideologies, far away from realities and above all far away from the law and message of God. God is LOVE. Pope Francis is often considered by Christian fundamentalists as the anti-christ because of his will to reform the Catholic Church. Pope Francis has also to face the most conservative members of the Roman Curia. However, the transition between Pope Benedict XVI, great theologian and conservative to Pope Francis in 2013 was clear. Pope Benedict XVI renounced his papacy and announced it to Pope Francis, Jesuit and very close to poor people one year before, in privacy hoping that Pope Francis will be the next Pope. Pope Francis, urge to support more the poorest, the outcats and to fight social inequalities, social injustice. It is the clearest and strongest teachings of Christ. In addition, Pope Francis wants to reform :
The way Catholic LGBT are considered within the Church
The possibility to Catholic divorced people to take the Eucharist
The married deacons to become priest and preach, celebrate
For many years, father James Martin is preaching how the Church should minister to "LGBT+ Catholics". As the Catechism explains :
[Those with deep-seated homosexual tendencies] must be accepted with respect, compassion, and sensitivity. Every sign of unjust discrimination in their regard should be avoided. (par 2358)
He rightly denounced the tragic way LGBT+ Catholics and their families have at times been treated in the Church. The stories he tells reveal shameful spiritual abuse of LGBT+ individuals as God's children. In the US, the Episcopal Church says "yes" to marriage for all in all its dioceses.
James J. Martin SJ, an American Jesuit priest
The Protestant United Church of France authorizes the blessing of same-sex couples. Protestants have always accompanied the deep movements of society. This was already the case in matters of sexuality when there was a debate on the contraceptive pill. In the same way, they integrate homosexual reality into their thinking and actions. Talking about contraception, father Yves Congar (1904-1995), expert at Vatican Council II, showed intuition when he pointed out the risk of creating "a hiatus, even an abyss, between the pastoral hierarchy and the mass of the faithfuls, many of whom are truly evangelical and generous." He declared: "I cannot really judge that spouses who have exercised or are exercising a reasonable and generous fatherhood contravene the will of God if, to space or avoid a new birth (intention that Humanae Vitæ recognizes legitimate), use a safer artificial means than periodic abstinence ". He said so after the encyclical "on marriage and the regulation of births" promulgated by Pope Paul VI on July 25, 1968. Yves Georges Congar in civil status and Marie-Joseph Congar in religion, born in Sedan on April 13, 1904 and died in Paris on June 22, 1995, was a French Dominican religious considered as one of the most influential Catholic theologians of the 20th century. He is particularly known for his work in ecclesiology and ecumenism. First exposed to suspicion and then to sanctions from the ecclesial authority, he was later rehabilitated, appointed expert at Vatican Council II (1962-1965) and elevated to the cardinalate by Pope John Paul II in 1994. He is one of the most influential Catholic theologians.
LGBT Paris and Survey
According to the public opinion in polls, French are very favorable for same sex marriage in a large majority. In addition, Parisians are very open-minded regarding the LBGT+. In Paris and France overall, there is not a high level of homophobia. However, homophobia has increased significantly since 2015 (+ 44%), even if it did not reach the records of 2013 and 2014 (we were then in the midst of a debate on same sex marriage legalization). This development is a concern, but it does not mean that homophobia is exploding. 231 physical assaults have been recorded in 2018, up 66% compared to 2017 according to SOS homophobie publishing every year a report. SOS homophobie is an association law 1901, among others, to fight against discrimination and assaults of a homophobic and transphobic nature. Created on April 11, 1994 and Paris based, it has developed territorial delegations to ensure the relay of its actions to fight against homophobia and to fight for equal rights.
According to a recent IFOP survey, in the majority of cases, the aggressor is a man (78%), under the age of 30 (75%), who acts in the presence of a group (61%), even though few victims say they have been attacked by several people at the same time (21%). Verbal attacks of a homophobic nature are more frequent than those of a racist nature. The proportion of victims of homophobic attacks varies according to the degree of assertion of their sexual identity. The victims also describe their persecutors as men of developed physical strength and aggressive behavior, the study notes. Among the respondents, 2% present their attacker as a black person, 4% white, 6% speak of an Arab or Maghreb person. These characteristics, which they were invited to specify freely, only come in sixth position. According to the study, in the past 12 months, the number of victims of physical violence doubled between June 2018 (3%) and April 2019 (7%). The trend is stable concerning insults (29%), destruction of property (21%) or even touching of a sexual nature (22%). More worrying: 60% of them admit to having thought of committing suicide. In total, more than 1 on 2 LGBT people (55%) report having been the victim of homophobic assault in their lifetime.
In 74 countries around the world, homosexuality is still considered a crime punishable by law. 10 years ago, this figure was higher with 93 countries. A total of 12 countries provide death penalty for homosexuality, in Africa and the Middle East: Afghanistan, Saudi Arabia, Brunei, United Arab Emirates, Iran, Mauritania, Qatar, Nigeria, Pakistan, Sudan, Somalia and Yemen. Among the 12 countries where homosexuality is synonymous with death penalty, 7 introduce the death penalty under Sharia law. This is the case of Iran, which in 2016 executed Hassan Afshar, accused of having sex with another young person. He was 17 years old.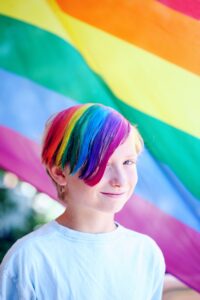 Famous LGBT people in Paris
It is in a very classic way that Charles de Beaumont, knight of Eon, lived his youth in the 18th century in France. Coming from an aristocratic family, lawyer, the network he then established in Paris allows him to integrate the "black cabinet" of King Louis XV. Concretely, Charles de Beaumont began a career as a diplomat and spy. Between Saint Petersburg and London, he grimes himself and dresses as a woman, out of necessity but also for pleasure. He ended up defining himself as a woman and even appeared at the court of Versailles in 1777 in a basket dress and corset with the king's blessing in person. In his autobiography, however, he was more ambiguous, explaining that he was born with the hidden sex and that the doctor had been unable to define his sex. His autopsy report, after his death in 1810 at the age of 81, is clearer, the "old lady" has "male organs (…) perfectly formed in all respects".
is a famous French woman of letters, actress, and journalist. She is one of the most famous international novelists of French literature, second woman elected (unanimously) member of the Goncourt academy in 1945, appointed for the 1948 Nobel Prize in Literature, and the second woman in France to receive a national funeral. She was openly bisexual and she got married 3 times. Discover where she used to live and work.
Gertrude Stein (1874 –1946)
An American novelist, poet, playwright, and art collector, she moved to Paris in 1903, and made France her home for the remainder of her life. She hosted a Paris salon, where the leading figures of modernism in literature and art, such as Pablo Picasso, Ernest Hemingway, F. Scott Fitzgerald, Sinclair Lewis, Ezra Pound, Sherwood Anderson and Henri Matisse, would meet. She had a love relationship with Alice B. Toklas. Ernest Hemingway describes how Alice was Gertrude's "wife". Enjoy a walking tour about the lost generation as they called themselves.
Marguerite Yourcenar (1903-1987)
French woman of letters, she was the first woman elected to the French Academy. Marguerite Yourcenar published her first novel in 1929, Alexis or the Treaty of the vain combat, which already broached the theme of homosexuality. In 1937, she met Grace Frick, a professor of British literature in New York, who would be her partner until the latter's death in 1979, following breast cancer. Have a private tour within Saint Germain.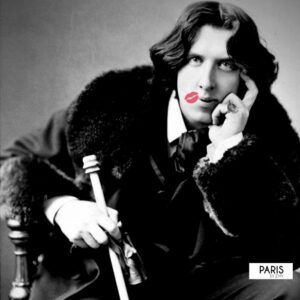 Oscar Wilde (1854-1900)
was an Irish writer, novelist, playwright and poet born in Dublin on October 16, 1854 and died impoverished in Paris on November 30, 1900. This extra talented Irish writer, was a refugee in Paris from being persecuted and jailed by being gay.  He remains at the Père Lachaise Cemetery where his grave used to be full of red lips stick kisses. However, the cemetery decided to surround his grave by windows glasses couple years ago. The ashes of Robert Ross (ex-lover and executor of his estate) were placed there in 1950.
is a 19th century French writer and poet, born in Metz on March 30, 1844 and died in Paris on January 8, 1896. At 21, Verlaine was in charge of literary criticism in the review "L'Art", he wrote glowing articles on Charles Baudelaire and Victor Hugo. He tried his hand at poetry and published his first collection, Poèmes saturniens in 1866, at 22 years old. His life was turned upside down when he met Arthur Rimbaud the poet in September 1871. Verlaine left his wife to follow the young poet in England and then in Belgium. It was during these trips that he wrote The Romances Without Words. In 1873, he wounded Rimbaud with a revolver and was sentenced to 2 years in prison, in Brussels and Mons. His wife had requested and obtained a separation, he converted to Catholicism.
Bambi, by her stage name, was a famous review leader in the 1950s, notably at the famous cabaret de la butte Montmartre, Madame Arthur. Born in Algeria in 1935, Jean-Pierre Pruvot "hated his first name", explains Bambi in a documentary devoted to her in 2013. Once in Paris, she "devotes herself to the stage", a means of "discovering herself" . Then, in 1958, took the plunge by having surgery. She then becomes Marie-Pierre. At 33, she left the entertainment world, studied literature and became a French teacher. "What is important is that people know that we have our dignity, that we want to live in society with no less ease than the hetero world, that we want to be known for our identity gender without causing sidelining, "she explained in 2015.
What to do in LGBT Paris
Like a wedding planner, PARIS BY EMY offer high standing custom made Paris trip. We provide many services such as personalized itinerary for each day of your stay, private tour guide with hotel pick up, hotels recommendations, permanent assistance, airport hotel transfer, private driver, exclusive gourmet tour, reservation and booking for restaurants, museums, shows, wine tasting tour in Champagne… Get inspirations for your LGBT Paris trip with our PARIS BY EMY 10 themes. What you should do :
The annual pride march, la Marche des fiertés, in June organized by the INTER-LGBT association since 1999
Ladies-only bar and nightclubs
Gay-friendly bars, gay bars, and gay nightclubs,
Gay-friendly restaurants and Michelin star restaurants in the Marais
Gay-friendly hotels in the Marais district
Shopping in the great BHV Le Marais Department store and little boutiques around including designers such as Jean-Paul Gaultier with his famous sailor shirt and Karl Lagerfeld's boutique in the Marais.
Chez Michou Cabaret in Montmartre for some true kitsch drag entertainment. Michou, Michel Georges Alfred Catty for his real name (1931  -2020) was the first Frenchman to offer a post-war transvestite show.
Gay memorial stone the last persons to be punished in 1750 for homosexuality intersection of Rue Montorgueil and Rue Bachaumont and more. The City of Paris commemorates the missing figures of the LGBT + movement. Commemorative plaques have already been established, the Mark-Ashton garden, the Claude-Cahun alley, the Coccinelle promenade, Harvey-Milk, Place des Riots de Stonewall, Place Ovida-Delect, Rue Pierre-Seel or the Gilbert-Baker plaque.
Saint Eustache Paris church houses a moving triptych by Keith Haring, representing the life of Jesus (1990). The American gay activist artist had a craving for spirituality at the end of his life and realized dozens of Jesus life art pieces, dispatched across the world as he wanted it to be.
Another church close to Pompidou museum you might visit is Saint Merri, a Catholic church in flamboyant Gothic style from the XVI century. Thanks to Marty bishop of Paris from 1975, brotherhood In Christo  and unconditional love is well alive with the community of the Saint Merri Pastoral Center
The Louvre Museum offers thousands of Greek and Roman Antiquities, Renaissance, classical, neoclassical or romantic paintings and sculpture. Many of them celebrate the beauty of the male and female body. Many representations of nudes are often homo-erotic. Among those masterpieces, make a stop for Sleeping hermaphrodite in the Greek, Etruscan, and Roman Antiquities department. Because the Naiad falling in love with Hermaphroditos, and not having been able to make him sensitive to her charms, prayed gods to unite their bodies so much, that they became only one with both sexes.
…
Situated on the Right Bank of the Seine, the Marais district of Paris enjoys worldwide fame. Between its bourgeois Bohemian Parisians, the gay community, the Jewish quarter, the Pompidou Centre, the charming Place des Vosges, little restaurants, fashion boutiques, sacred places and a wealth of history, Le Marais is a fascinating district for everyone. Contact us for a tailor-made Paris Tour Package, from 400 Euros including taxes. We plan your trip according to your profile, aspirations and budget to discover Paris and the LGBT Paris history :
Thanks to our Parisian network, we offer the trip of your life with great connections. Let us know if you want a specific LGBT Paris private tour guide in addition to PARIS BY EMY themes and/or to get in touch with LGBT organizations such as LGBT Paris private touring companies, David and Jonathan organization… David & Jonathan, founded in 1972, is not affiliated with any denomination or religious institution. However, many of its members are personally involved in different churches. David & Jonathan clearly displays its ecumenical and plural vision.
Fight against AIDS: David & Jonathan participated in the creation of Christians & AIDS and many AIDES branches. The association also cooperates with Sida Info Service
Militance in collaboration with Inter-LGBT and in strong friendly relationship with Jewish (Beït Haverim) and Muslim (HM2F) LGBT associations
International action in collaboration with the European Forum of Gay and Lesbian Christian Groups and first French member of ILGA-Europe (International lesbian and gay association)
Finally, David & Jonathan actively participates in Pride Marches, World Homophobia Day (May 17) and World AIDS Day (December 1)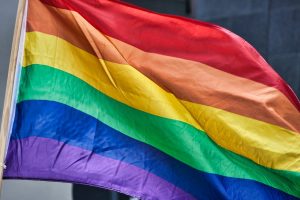 To conclude, I would like to dedicate this page to all of those who are fighting and suffering from homophobia, discrimination, hate, violence, crime, persecution, genocide, fear, anxiety, depression, injustice, judgment, unfairness, hypocrisy, deny and manipulation. As a Catholic woman and holocaust survivor's grand-daughter, I dedicate this page to minorities, and my LGBT friends. We are all parts of a whole. Our individual actions, behaviors and mindsets have an impact on our society. Collectively, we can change our society. Collectively, each of us can help to create a gender equal world.
---