Gourmet restaurants tour
Michelin star restaurants Paris – The oldest gastronomic guide in the whole world, the Michelin guide awards stars to the best restaurants in Paris, in France, around the world, every year. The establishments and their Chefs scrupulously follow the publication of the results as it constitutes a real distinction in the high competitive universe of gastronomy.
Michelin star restaurants Paris Tour
The first Michelin guide was created in 1900 by André Michelin and his brother Édouard. Published on the occasion of the Universal Exhibition of 1900. It was the Red Michelin Guide which awarded the first stars to restaurants from 1931.
In 1907, the executive management team of Michelin decided to ban advertising in the guide to ensure independence of judgment. Even today, they refuse to advertise any of the establishments they present.
In 2018, it is 118 Michelin star restaurants in Paris. The distinctions range from 1 to 3 stars, 3 stars meaning that it is a unique cuisine with the signature of a brilliant Chef, with exceptional products, powerful flavors, in an exceptional setting.
Not only Michelin star restaurants are gastronomic restaurants. Some establishments just don't feel the need to be published in this guide. France has more Michelin star restaurants than any other country. Paris is home to a quarter of them.
We offer exclusive tour to discover the Parisian gastronomy, according to your taste buds. We guaranty you the finest quality and excellence. Enjoy a dinner, a lunch in one or several starred restaurants via :
The type of their cuisine French, creative, modern, traditional, fish, meat, du terroir…
The atmosphere of the restaurant chic, cozy, friendly, design, contemporary, luxury…
The quality of the products prepared, cooked and designed by the Chef and his/her team
The best value for money with an admirable moment of Parisian Cuisine
And of course, a fabulous cellar and wine list to go with each dish
Michelin-starred cuisine is known to be pricy. A dish could vary between 100 Euros up to 360 Euros. However, a meal at any of the carefully chosen establishments on this list can actually be enjoyed for less than what you think. It also depends on wines you want to have, pairing with your dish. You could choose a bottle of wine at 5, 000 Euros.
Wine and gastronomic restaurant
In Paris, restaurants will play more on diversity because they are less registered in a wine-growing region, and the more you go upmarket, the more the wine list will be abundant, with prices higher and higher.
Ask for a champagne tour or a Burgundy tour from Paris with a private chauffeur on a private tour custom made just for you. You could also have a wine tasting tour in Paris. If you desire a private tour with a certified guide in museums or landmarks with strong privileges such as private access with meals in exquisite restaurants and private chauffeur, we offer this type of gourmet tour in Paris and around Paris.
The important thing is to change your wine list over the seasons. The wine list is developed with the Chef and his head sommelier, with the aim of either being able to please everyone, or a classic wine offer and or small discoveries that go off the beaten track. The selection of wines is like a jewel on a beautiful woman, it is an extra touch, it is a guarantee of the quality of the house. The price of a bottle varies between 35 € to 11,000 €.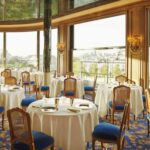 Exclusive Custom Made Gourmet Tour
Ask us to set for you the perfect Parisian Gastronomic Tour within those fabulous restaurants, an unique meal with privileges, made just for you by fabulous Chefs and their teams. We can add to gastronomic lunch, tea time, dinner exclusive private tour guide, with exclusive access to museums or landmarks such as the Louvre Museum, and the Palace of Versailles.
In addition, we can plan your trip from hotel recommendations, to tailor-made Paris itinerary,  private car services… with our high standing services, personalized, from a Parisian local company and its Parisian partners. We follow your desires.
You can combine a museum's private tour guide with private access and a gourmet tour with private personalization, and with a private driver. You can rely on our expertise, our Parisian partners and know how to experience Paris with true human considerations and high standing. Follow your aspirations. Travel in serenity with local expertise.
Opt for a mix of very high standing private tour and gastronomic French Cuisine with our exclusive gourmet tour. No partners, vendors have signed a contractual agreement with PARIS BY EMY. Be cosseted and faithful in our recommendations. We have a tremendous Parisian network.
A tour without Michelin star restaurants Paris
We also offer great recommendations for dining, lunch, brunch among the 15, 000 restaurants, cafés, brasseries of Paris. The French cuisine is fabulous. We can recommend restaurants, reserve and book tables for you as well among restaurants which are not starred. We include those services among our all inclusive package, tailor-made for you.
Gault et Millau is also a French restaurant guide. It was founded by two restaurant critics, Henri Gault and Christian Millau in 1965. Gault Millau rates from 1 to 20, 20 being the highest. The points are awarded based on the quality of the food, with comments about service, price or the atmosphere of the restaurant given separately. Gault Millau does not accept payment for listing restaurants.
Ask us an exceptionnal dinner in a fabulous gastronomic Parisian restaurant
---