Paris Vacation Packages fully customizable
Paris Tour Package : Indeed, we offer genuine personalized tour packages. Moreover, you have the possibility to create your own package or to modulate each package easily.
Custom Made Paris Tour Package
From 400 Euros including tax for a Paris Tour Package
From 250 Euros including tax for a Private Tour Guide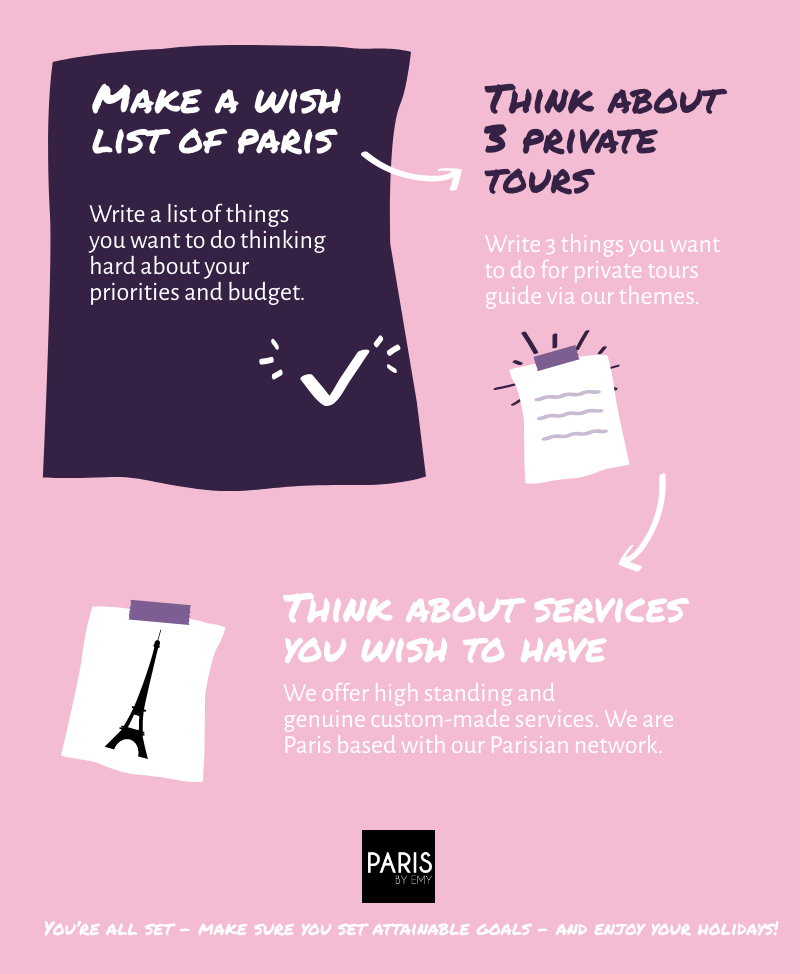 All inclusive Paris Tour Package
We offer high standing custom made Paris trip. Be cosseted. We provide exclusive services that give you the sureness to live a tremendous experience in the City of lights. Our customers save time and optimize their trip according to their very own wishes, desires and budget. Our clients fully appreciate Paris like slippers on their feet.
Exclusive Paris Tour Package Services by PARIS BY EMY
Unlimited exchanges to plan your trip according to your budget and aspirations via email, phone, Skype
Flexibility to customize your trip and possibility to modify your itinerary during your stay
Personalized trip via our 10 themes such as Parisian Icons, French Cuisine, Landmarks, Sacred Places...
Parisian social events, exhibitions, festivals recommendations according to your profile
Permanent Assistance during your visit for any questions or requests
Assistance 24/7 in case of emergency or just in case of little problems
Recommendations for any type of services, suppliers and activities in Paris
We create your Paris Tour Package in accordance to exchanges and your validation. In fact, you choose we create. We preview each activity, each sightseeing, you will visit.  We set your itinerary. We are Paris based with our Parisian Network. Choose among our options in the list below what you are looking for and do not hesitate to ask us more. From 400 Euros including tax for a Paris Tour Package
Paris Tour Package with Personalized Services
Prices depend on the number of people in each Paris Tour Package and Private Tour Guide
"The Roadmap", an itinerary, tailor-made, for every day of your stay
Airport hotel transfer with private chauffeur
3 accommodation recommendations, verified by PARIS BY EMY, according to your criteria
Private tour guide Paris in English for 1/2 Day(s), full Day(s), Evening(s)
Private tour guide Paris in English with a private chauffeur
Museums private tour with a certified guide, high privileges and a private driver
Museums and Gourmet restaurant private tour with a certified guide and private chauffeur
French Parisian gastronomy tour for a dinner in a gourmet restaurant with a private driver
Wine tasting private tour in Champagne or Burgundy with a private driver
Private Parisian Shopping tour with a private driver according to your taste
Special Event organization such as anniversary, marriage proposal, honey moon
Reservation made for hotel, airport chauffeur, restaurant, concert, opera, …
Skip the line entrance ticket for museums and landmarks
And more if you need more !
In addition, we offer advices, hint and tips with recommendations. We are Paris based with our Parisian network. City of art and culture, Paris has lots of social events, exhibitions and activities. PARIS BY EMY informs you about all the lectures, social events and cultural programs of the city that fit in your profile.
We are far away from mass tourism, and impersonal travel companies. No large group tours but just you. Be cosseted. You can rely on our knowledge to experience Paris with true human considerations and tailor-made services. Moreover, we offer flexibility and response better than any other platforms. We help you for any requests or specific demands. Visit Paris unconstrained with hints, tips, real human assistance and high standing personalized services.
There are no already-made tour. No partners of our network have signed a contractual agreement with PARIS BY EMY. No day, time and visit are imposed to you, no constraints. We are very flexible and we can always modify your itinerary. Paris is very active all year long, throughout the seasons. Travelling becomes a strong human experience.
With the Specific Demand Paris Tour Package
Our best-performing package from 400 euros including tax.
We set exactly what you want according to your budget and desires
Genuine custom made tour, you choose exactly what kind of services you are looking for
We are passionate about giving you an ultra custom made Paris Trip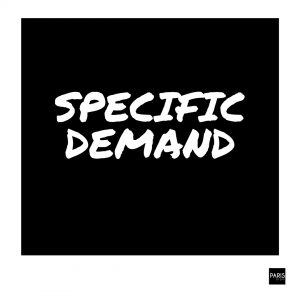 For example, you are coming to Paris for one week with friends during summer. It is the first time for you all in Paris. You want to have highlights of the city with a focus on its major districts, a gourmet dinner, shopping, and Green Paris. You may ask for those services :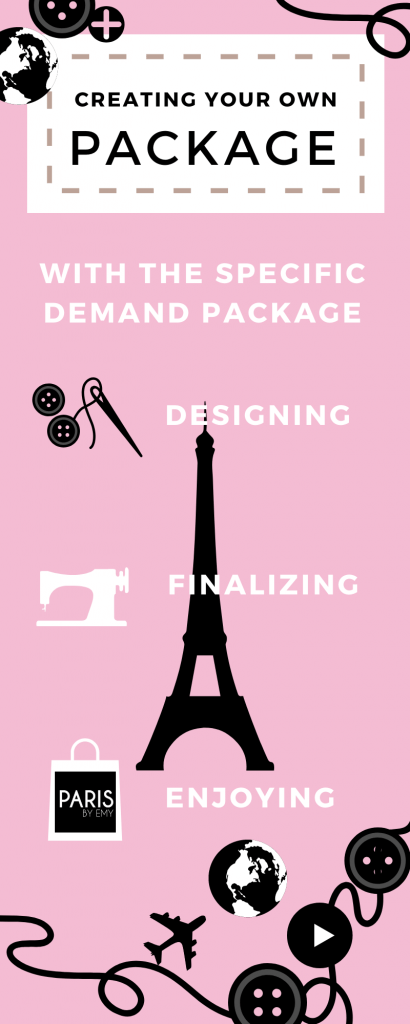 Genuine Tailor Made Trip
Each client is unique. We tailor make your Paris trip exactly to your aspirations. It also means we are providing you services with local expertise that others may not have. We are :
Personal Travel Agent to set your hotel and itinerary
Private Concierge services for specific requests
Personal Assistance during your stay
Dedicated Customer Support
Tailor-Made Private Tour Guide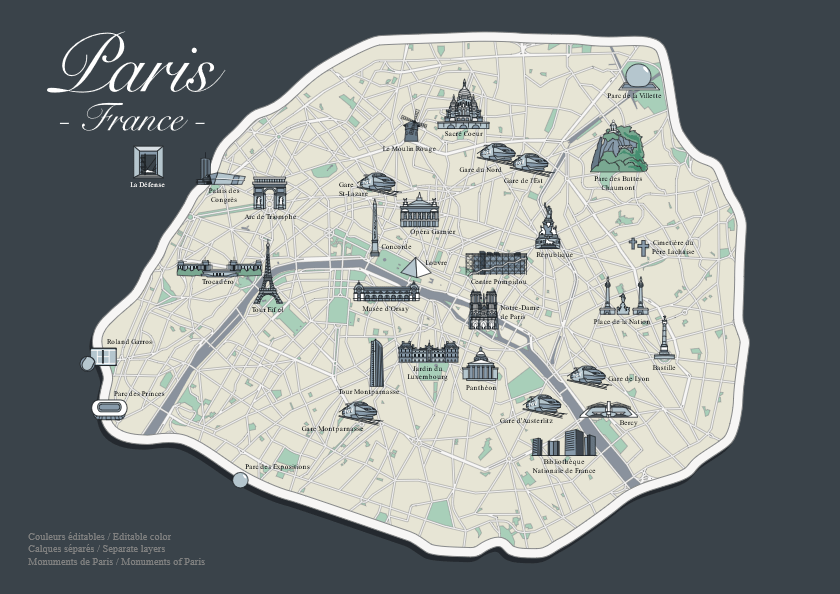 Inspiration for Your Wish List
Follow your heart. Write down everything you are craving for. Below the PARIS BY EMY themes. It might give you some inspirations. Be realistic too. Once you have your list, identify your priorities and greatest aspirations.
PARISIAN ICONS
HISTORICAL PARIS
FRENCH CUISINE
ART & MUSEUMS
SACRED PLACES
LANDMARKS & SIGHTSEEING
SHOPPING
ENTERTAINMENT
GREEN PARIS
OUTSIDE PARIS
---
Have a look at PARIS BY EMY themes for what to do in Paris
---
Inspiration for Your Private Tour Guide
We set custom made private tour guide or walking tour according to your aspirations with hotel pick up. We also offer private tour with high standing certified guide and privileges, thanks to our Parisian network.
Lafayette, Queen Marie-Antoinette & the Revolution
The unavoidable classics and icons of Paris
Famous Parisian people who made Paris
Dinner cruise and walk around the majestic Seine River
The districts Saint Germain, Montmartre, Le Marais,…
Famous cafés, brasseries, and restaurants
Champagne the king of wines and wine tasting tours
Shopping in Paris, traditional houses, the Made in Paris
Antiquing in flea markets and ancient boutiques
The most romantic places to walk around and to have dinner
Paris after dark tours and Paris by night
Paris from the Middle Age to nowadays
Paris religious tour heritage accross churches and sacred art
The Emperor Napoléon and his landmarks
World War II and De Gaulle General
Literature, poets, writers and artists in Paris
Cosmopolitan Paris from all continents
Paris nature and wildlife tours
Green Paris and its garden, parks and forests
The Sacred places in the City of Lights…
---
Have a look at our Private Tour Guide
---
With the VIP Paris Tour Package, you have it all
Paris Tour VIP Package from 2000 Euros taxes included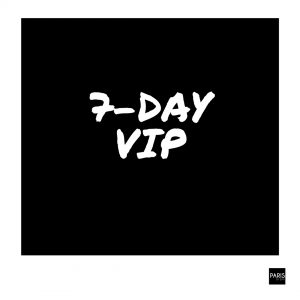 You can add or remove services
7 Day Duration of your tour package

Unlimited exchanges for your trip's creation via 10 themes

A choice of 3 accommodation options according to your criteria
A tailor-made itinerary, " The Roadmap"

1h Welcome meeting at your convenience in Paris

Online assistance during your trip

Emergency assistance 24/7

2 full days or 4 half days of private tour guide (12 hours)
With the 7-day Full Service Paris Tour Package
Paris Tour 7-Day Full Service Package from 1150 Euros taxes included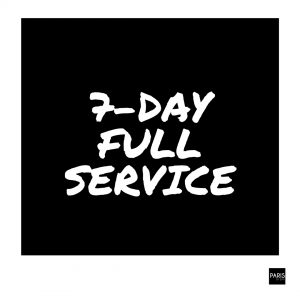 You can add or remove services
7 Day Duration of your tour package

Unlimited exchanges for your trip's creation 

via 10 themes

A choice of 3 accommodation options according to your criteria

1 full day or 2 half days of private tour guide (6 hours)

Permanent online assistance
With the 7-day Premium Paris Tour Package
Paris Tour 7-Day Premium Package from 850 Euros taxes included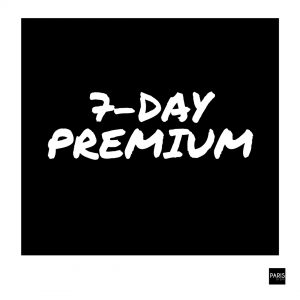 You can add or remove services
7 Day Duration of your tour package

Unlimited exchanges for your trip's creation 

via 10 themes

A choice of 3 accommodation options according to your criteria

1 half day of private tour guide (3 hours)
With the 3-day Premium Paris Tour Package
Paris Tour 3-Day Premium Package from 400 Euros taxes included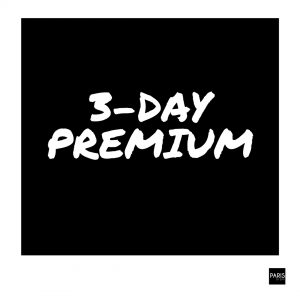 You can add or remove services
3 Day Duration of your tour package

Unlimited exchanges for your trip's creation 

via 10 themes

A choice of 3 accommodation options according to your criteria
An itinerary, " The Roadmap" like a schedule for your days and nights, tailor-made
---
Paris Tour Package – Each tour is unique
Save time & energy
Optimize your budget
Be cosseted and understood
Travel in serenity with local expertise
No already planned tour
Feel Paris Heartbeat
Follow your aspirations
---
Paris Tour Package Summary
| | | | | |
| --- | --- | --- | --- | --- |
| From taxes included | From 400 Euros | From 2000 Euros | From 1150 Euros | From 850-400 Euros |
| Unlimited exchanges to plan your trip, via 10 themes, your way, according to your budget and aspirations | You choose or not | VIP | Full Service | Premium |
| A choice of 3 accommodation options, verified by PARIS BY EMY, according to your criteria, with photos and reviews to help you make a choice | You choose or not | VIP | Full Service | Premium |
| "The Roadmap" in PDF, a schedule like a plan for your days and evenings, tailor-made, easy to read on smartphone | You choose or not | VIP | | 3-day Premium |
| Welcome Meeting within Paris at your convenience - day time & place of your choice, 1 hour - from 9am to 7pm | You choose or not | VIP | | |
| Online Assistance during your visit, Monday through Friday, from 9am to 7pm | You choose or not | VIP | Full Service | |
| Permanent assistance 24/7 in case of emergency | You choose or not | VIP | | |
| Private Tour Guide* Paris in English for 1/2 Day(s), full Day(s), Evening(s), within, around or outside Paris | You choose or not | VIP | Full Service | 7-day Premium |
| Private Tour Guide* Paris Normandy Two days | You choose or not | | | |
| Private Tour Guide* Paris Champagne one day | You choose or not | | | |
| Reservation made for hotel, airport chauffeur, private chauffeur for touring, museum, restaurant, opera… | You choose or not | VIP | Full Service | Premium |
| Special Event organization such as anniversary, marriage proposal... | You choose or not | | | |
---