Trip to Paris with expertise from a Parisian company
Trip to Paris – Like a wedding planner, PARIS BY EMY is dedicated to planning custom made Paris Tours with Private Tour Guide and Private Personal Assistant Services in the light of your aspirations.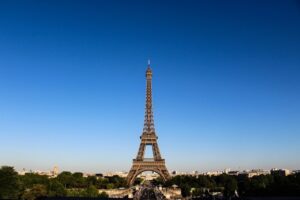 We know that in order to work effectively, we must understand our clients' priorities, desires and aspirations. We can offer the essential custom made service that has become our trademark.
Roadmap for the all stay with personalized tour and services
Recommendations with review to select a great hotel
Private Personal Services such as airport transfer
Skip the line tickets for landmarks, museums, …
Booking with the right Parisian providers and great activities
Suggestions for unusual Paris and an authentic insight of Paris
Trip with dedicated customer support before and during your trip
Enjoy an authentic insight into French culture via personalized tours, a delightful trip to enhance your enjoyment of Paris.
Trip to Paris, each trip is unique like you
You are who you are. Indeed, we create the perfect Paris Trip for you, your way. Besides, we have excellent listening skills. As a matter of fact, your trip reflects exactly what you are looking for.
We favor personalized customer relationships because we believe this is the only way to deliver the highest level of service. Thus, our availability is limited but the services that we offer are limitless in scope.
How to proceed your Trip to Paris
First exchange on wishes of the customer by email, WhatsApp, phone or Skype, with approximate or immediate quotation, depending on client's expectations. If necessary, other exchanges occur to finalize spending's orientation to reach the final quotation. We plan Paris Trip your way.
If the final quote, sent by email,  is accepted by the customer, billing and payments occur online, payment with a credit card or a bank-transfer. Several billing and payments can occur in the case of the customer needs to make a deposit and/or wants to add services. Deposits are not refundable.
Then, your Paris Trip Planner creates genuine personalized tours and itinerary via each client personality designed to take your Paris trip to life time memory. Each tour has been carefully crafted by PARIS BY EMY and is led by a French local company, with expertise of Paris and traveling abroad.
---
Tailor Made Private Tour Guide from 250 Euros including tax
---
Specific demand package made just for you
Tailor-Made Paris Tour Package & Services by your personal Paris Trip Planner.
From a French company and its Parisian network
Far away from mass tourism with a personalized itinerary
Custom made recommendations for lodging, restaurant…
Private tour guide with hotel pick up and skip the line ticket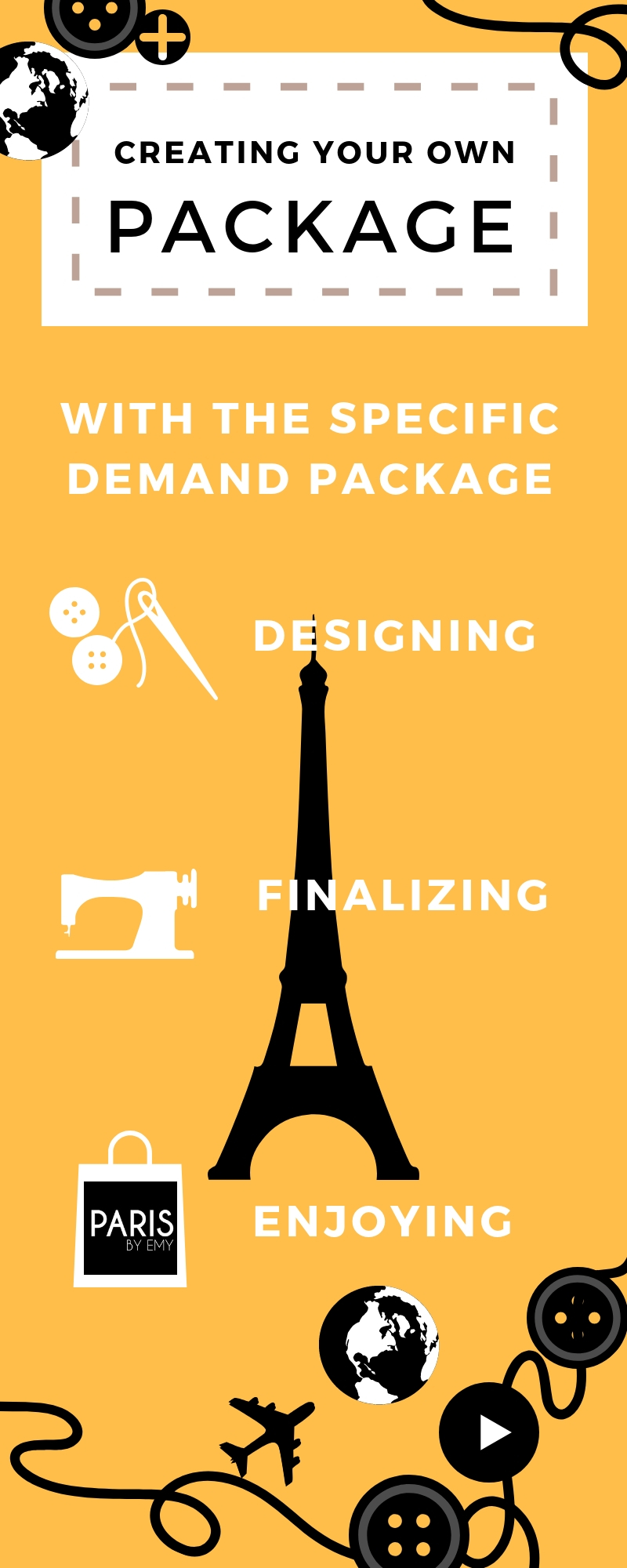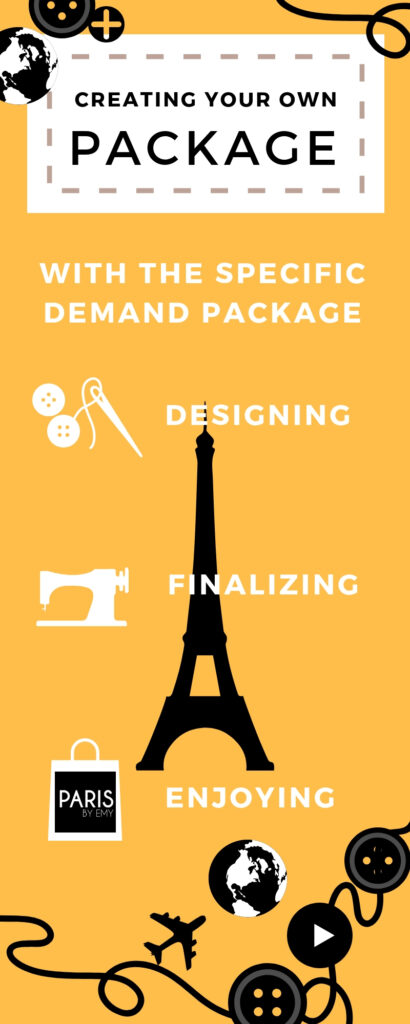 Personalized tours and services, you choose we create
Among many possibilities and services, you choose what you want with your Paris Trip Planner.
Custom Made Services by PARIS BY EMY
Prices depend on the number of people in each Paris Tour Package and Private Tour Guide
Unlimited exchanges to plan your trip according to your budget and aspirations
Airport hotel transfer with private chauffeur
3 accommodation recommendations, verified by PARIS BY EMY, according to your criteria
Personalized trip via 10 themes such as Parisian Icons, French Cuisine, Landmarks, Sacred Places...
Welcome Meeting within Paris at your convenience – day time & place of your choice
Private Tour Guide Paris in English for 1/2 Day(s), full Day(s), Evening(s)
Private Tour Guide Paris in English with a private chauffeur
Parisian social events, exhibitions, festivals recommendations, according to your profile
"The Roadmap", an itinerary, tailor-made, easy to read on smartphone
"The Travelogue", a travel guide booklet, tailor-made, easy to read on smartphone
Permanent online Assistance during your visit for any questions
Assistance 24/7 in case of emergency
Recommendations for any type of services, suppliers and activities in Paris
Special Event organization such as anniversary, marriage proposal, honey moon
Reservation made for hotel, airport chauffeur, restaurant, concert, opera, …
Skip the line entrance ticket for museums and landmarks
And more if you need more !
We offer personalized Paris tour package, all inclusive.
From 400 euros for individuals, taxes included
From 600 euros for organizations, small groups, taxes included