Planning a Trip to Paris
Planning a Trip to Paris is convenient : PARIS BY EMY has access to international calls, with Emy its founder, a native French fluent in English, who lived 5 years in the US. We can also exchange by WhatsApp, email, Skype… to discuss about your trip in Paris.
We plan your trip with transparency & accuracy
Ongoing exchanges before and during your trip. Be in serenity
PARIS BY EMY has access to international calls, unlimited
We may exchange by Email, land phone, mobile, WhatsApp, Skype…
How to plan a Trip to Paris
PARIS BY EMY develops Paris Tour Package according to your aspirations.
We preview each place you will visit, each activity, each sightseeing, accommodation, …
We create your Paris tour in accordance to exchanges and your validation.
---
Guidelines are as follows of how Planning a Trip to Paris is processed once you have your package
STEP 1 – EXCHANGE/QUOTATION
First exchange on wishes and budget of the customer by phone or Skype, with approximate or immediate quotation, depending on your wishes, tailor-made package and/or (only) selected option(s) such as private tour guide. If necessary, second exchange to finalize the quotation in case of particular request or which requires a precise and thorough research.
---
STEP 2 – BILLING
If the quote, sent by email,  is accepted by the customer, billing and payments occur online, payment with a bank-transfer. Several billing and payments can occur in the case of the customer needs to make a deposit and/or wants to add services. Deposits are not refundable.
---
STEP 3 – EXCHANGE/CREATION
Third passage of detailed and meticulous exchanges with the client for the creation of the trip via email or Whatsapp, Skype preferably by appointment. We may go together via interviews. It is a key moment to create you Dream Trip in Paris. We go, on one to one, through discussions into 10 themes to clearly identify your priorities, centers of interest, and spending's orientation.
---
STEP 4 – PROPOSAL
Full proposal of PARIS BY EMY sent by email for the trip (except for round trip transportation to Paris). This first proposal would be the result of step 3.
---
STEP 5 – EXCHANGE/REFINEMENT
Refinement and exchanges around the first proposal via email, Whatsapp, … The goal is to refine your trip according to your expectations with the local expertise of PARIS BY EMY.
---
STEP 6 – FINALIZATION
Finalization of the proposal such as lodging recommandations, The Roadmap and The Travelogue or any other services requested, sent by email.
---
STEP 7 – ACCOMMODATION BOOKING
PARIS BY EMY does not take any commission on your choice of accommodation and leaves you the responsibility of booking on the one hand and settling your accommodation on the other hand.
You have the possibility to ask PARIS BY EMY to book your hotel for you with a 20% commission/fee on the total cost VAT.
---
STEP 8 – FINAL PROPOSAL
Final validation of the proposal sent by email once the accommodation is booked and settled. Possibility of refinement and exchanges around the final proposal if necessary.
---
STEP 9 – PACKAGE OPTION ELEMENTS SENT
Sending by email each validated element of the selected package and options, if applicable, such as the "Roadmap" and the "Travelogue".
---
STEP 10 – PACKAGE OPTION FULLFILLMENT
Fulfillment of the packages and options chosen during the stay, in Paris and around.
---
Let's talk about your Trip
No trip, tour package, excursion, already-made and already-planned
No commission will be collected by PARIS BY EMY if a customer chooses a supplier
Genuine personalized vacation package. Your trip is unique

Planning a trip to Paris
Paris Tour Package, tailor-made and trendy
From 400 euros for individuals, taxes included
From 600 euros for organizations small groups, taxes included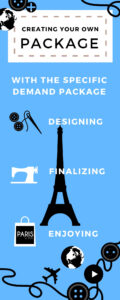 ---
Ask for other services

Paris hotels recommendations
Welcoming meeting at the airport
Get in advance tickets for Metro, museums, …
Reservation made for hotel, restaurant, opera …
Options For Private Tour Guide Paris
| Taxes included | Prices depend on the number of people and on duration |
| --- | --- |
| From 150 - 250 Euros | ½ Day(s) 8 am to 7 pm (3 hours total per day) |
| From 300 - 450 Euros | 1 Day(s) 8 am to 7 pm (6 hours total per day) |
| From 250 - 375 Euros | 1 Evening(s) 8 pm to midnight (4 hours total per evening) |
| From 1200 Euros | 1 day Champagne 8 am to 10 pm (14 hours total per day) touring transportation by rental car, only for individuals |
| From 2000 Euros | 2 days Normandy 8 am to 10 pm (14 hours total per day) touring transportation by rental car, only for individuals |