Planning a tailor-made trip to Paris
Planning a Trip to Paris is convenient : PARIS BY EMY has access to international calls, with Emy its founder, a native French fluent in English, who lived 5 years in the US. We also exchange by email, WhatsApp, Skype… to plan your Paris trip, custom made.
---
We set day by day your Paris Trip with our local expertise according to your very own aspirations
---
We plan your trip with transparency & accuracy
Ongoing exchanges before and during your trip. Be in serenity
PARIS BY EMY has access to international calls, unlimited
We may exchange by Email, land phone, mobile, WhatsApp, Skype…
How to plan a Trip to Paris
PARIS BY EMY develops Paris Tour Package according to your aspirations.
We preview each place you will visit, each activity, each sightseeing, accommodation, …
We create your Paris tour in accordance to exchanges and your validation.
You choose day by day what you really want to do in Paris with our support and expertise
Like a wedding planner, PARIS BY EMY is dedicated to planning custom made Paris Tours with Private Tour Guide and Private Personal Assistant Services in the light of your aspirations.
---
Guidelines are as follows of how Planning a Trip to Paris is processed once you have your package
STEP 1 – EXCHANGE/QUOTATION
First exchange on wishes of the customer by email, WhatsApp, phone or Skype, with approximate or immediate quotation, depending on client's expectations and selected service(s) such as private tour guide.
If necessary, other exchanges occur to finalize spending's orientation or/and to quote particular requests that require a precise and thorough research. As we finalize these arrangements, we should also reach the final quotation.
---
STEP 2 – BILLING
If the final quote, sent by email,  is accepted by the customer, billing and payments occur online, payment with a credit card or a bank-transfer. Several billing and payments can occur in the case of the customer needs to make a deposit and/or wants to add services. Deposits are not refundable.
We only accept Visa, MasterCard. Customers receive an e-mail. They only have to click on the payment link and pay as such. It's simple, fast and secure. All bookings are processed in Euros (€). If your country's currency is not Euros, your bank will automatically convert the price to your country's currency when you are charged. Your transactions and data from these transactions are encrypted using SSL and the AES algorithm. No data is stored and it is transferred to our system that comply with the Payment Card Industry Data Security Standard (PCI DSS), meeting the highest requirements in terms of bank security.
---
STEP 3 – EXCHANGE/CREATION
Third passage of detailed and meticulous exchanges with the client for the creation of the trip via email or WhatsApp, Skype preferably by appointment. We may go together via interviews. It is a key moment to create you Dream Trip in Paris. We go, on one to one, through discussions into 10 themes to clearly identify your priorities and strong centers of interest.
We offers genuine personalized tours and itinerary via each client personality designed to take your Paris trip to life time memory. Each request has been carefully crafted by PARIS BY EMY and is led by a French local company, with expertise of Paris and traveling abroad.
---
STEP 4 – PROPOSAL
Full proposal of PARIS BY EMY sent by email for the trip (except for round trip transportation to Paris). This first proposal would be the result of step 3.
---
STEP 5 – EXCHANGE/REFINEMENT
Refinement and exchanges around the first proposal via email, WhatsApp, … The goal is to refine your trip according to your expectations with the local expertise of PARIS BY EMY.
---
STEP 6 – FINALIZATION
Finalization of the proposal such as lodging recommandations, The Roadmap and The Travelogue or any other services requested, sent by email.
---
STEP 7 – ACCOMMODATION BOOKING
PARIS BY EMY does not take any commission on your choice of accommodation and leaves you the responsibility of booking on the one hand and settling your accommodation on the other hand.
You have the possibility to ask PARIS BY EMY to book your hotel for you with a 20% commission/fee on the total cost VAT.
---
STEP 8 – FINAL PROPOSAL
Final validation of the proposal sent by email once the accommodation is booked and settled. Possibility of refinement and exchanges around the final proposal if necessary.
---
STEP 9 – PACKAGE OPTION ELEMENTS SENT
Sending by email each validated element of the selected package and options, if applicable, such as the "Roadmap" and the "Travelogue".
---
STEP 10 – PACKAGE OPTION FULLFILLMENT
Fulfillment of the packages and options chosen during the stay, in Paris and around. You can add or change activities, day and hour for each booking, as long as you notify us by email at least 48 hours before. We are enough flexible to modify your tour/itinerary according to your mood, and your rhythm (also according to the weather) if no specific entrance tickets have been booked. We help you for any requests or specific demands before and during your stay. Visit Paris unconstrained with hints, tips, real human assistance and private tour services.
---
Let's talk about your Trip
No trip, tour package, excursion, already-made and already-planned
No commission will be collected by PARIS BY EMY if a customer chooses a supplier
Genuine personalized vacation package. Your trip is unique

Planning a trip to Paris
Paris Tour Package, tailor-made and trendy
From 400 euros for individuals, taxes included
From 600 euros for organizations small groups, taxes included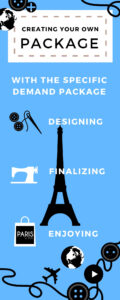 ---
Ask for other services

Custom Made Services by PARIS BY EMY
Prices depend on the number of people in each Paris Tour Package and Private Tour Guide
Unlimited exchanges to plan your trip according to your budget and aspirations
Airport hotel transfer with private chauffeur
3 accommodation recommendations, verified by PARIS BY EMY, according to your criteria
Personalized trip via 10 themes such as Parisian Icons, French Cuisine, Landmarks, Sacred Places...
Welcome Meeting within Paris at your convenience – day time & place of your choice
Private Tour Guide Paris in English for 1/2 Day(s), full Day(s), Evening(s)
Private Tour Guide Paris in English with a private chauffeur
Parisian social events, exhibitions, festivals recommendations, according to your profile
"The Roadmap", an itinerary, tailor-made, easy to read on smartphone
"The Travelogue", a travel guide booklet, tailor-made, easy to read on smartphone
Permanent online Assistance during your visit for any questions
Assistance 24/7 in case of emergency
Recommendations for any type of services, suppliers and activities in Paris
Special Event organization such as anniversary, marriage proposal, honey moon
Reservation made for hotel, airport chauffeur, restaurant, concert, opera, …
Skip the line entrance ticket for museums and landmarks
And more if you need more !
Custom Made Private Tour Guide by PARIS BY EMY
| Taxes included | Prices depend on the number people and themes |
| --- | --- |
| From 250 Euros | ½ Day from 8 am to 7 pm (3 hours total per day) without private chauffeur |
| From 385 Euros | 1 Day from 8 am to 7 pm (6 hours total per day) without private chauffeur |
| From 300 Euros | 1 Evening from 8 pm to midnight (4 hours total per evening) without private chauffeur |
| From 1200 Euros | 1 day Champagne touring, transportation with private guide and chauffeur, only for individuals |
| From 2000 Euros | 2 days Normandy touring, transportation with private guide and chauffeur, only for individuals |
| Ask for a quote | In Paris, around and outside Paris, with private chauffeur only or with private guide and chauffeur |