|For Students|
Student Tours Paris : we offer a rich approach of intellectual activities for students and their teacher, with a personalized tour and private tour guide, from a Parisian company.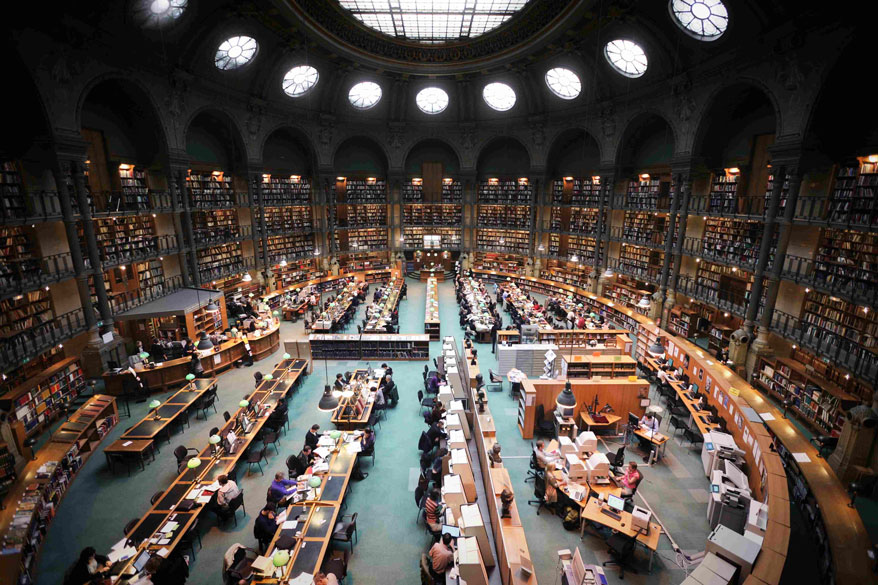 ---
France, Paris, Bibliothèque Nationale de France (BNF), site Richelieu, salle ovale
---
Trip according to your field
According to your field of study, you have the perfect Student Tours Paris. Below, some examples of themes for a tour according to your studies and major, while at the same time enjoying Paris.
Custom Made Private Tour Guide by PARIS BY EMY
| Taxes included | Prices depend on the number people and themes |
| --- | --- |
| From 250 Euros | ½ Day from 8 am to 7 pm (3 hours total per day) without private chauffeur |
| From 385 Euros | 1 Day from 8 am to 7 pm (6 hours total per day) without private chauffeur |
| From 300 Euros | 1 Evening from 8 pm to midnight (4 hours total per evening) without private chauffeur |
| From 1200 Euros | 1 day Champagne touring, transportation with private guide and chauffeur, only for individuals |
| From 2000 Euros | 2 days Normandy touring, transportation with private guide and chauffeur, only for individuals |
| Ask for a quote | In Paris, around and outside Paris, with private chauffeur only or with private guide and chauffeur |
Cultural immersion & field of study

Architecture
Art History
Cinema
Design
Economics
Fashion
Gastronomy
History
Literature
Performing Art
Philosophy
Political Science
Sciences
Sociology
Theology
Visual Art…
Paris a fantastic place to explore
Get a helping hand for preparing your trip to Paris. Discover la Cité des Sciences et de l'Industrie, the Curie museum, the National Museum of Natural History established in 1635, the Louvre museum, Orsay museum , Versailles palace, Notre Dame cathedral…
PARIS BY EMY develops Student Tours Paris according to topics you want to study. We preview each place you will visit, each activity, each sightseeing, accommodation, … so teachers and students already know what to expect. Plan your school trip to Paris with PARIS BY EMY because we are local experts of life in Paris.

Tailor-made Student Tours Paris
Politics through the French Revolution
International relations with World War II
Radioactivity discoveries with the 5 Nobel Prize Curie family's museum
Art History with the Louvre, Orsay, Pompidou, Quai Branly…
Theology and Christianity, religious heritage in Paris…
You can mix theory and field, knowledge and experiment thanks to PARIS BY EMY. It gives you the opportunity to experience Paris and the French culture fully, in accordance to your field of study.
You may as well discover the Sorbonne University, one of the oldest Universities in the world, the Bibliothèque Nationale de France, the BNF, the national library of France, and many other institutions and places, according to your field of study.
---
We give you connections to meet people from Education & to exchange with them
---
Personalized school trips to Paris
Creation of your voyage according to each client
Custom made services according to your profile
No platform, no algorithm, no already-made Paris Tours
Just real human exchanges for an authentic insight into Paris
What we offer for student tours
We recommend the most suitable accommodation and transport Paris tour providers for your age of students and your learning objectives. Hotels or hostels will conform to local regulations, and meet your criteria/standards in your tour programme.
Permanent assistance 24/7
We have 24 hour emergency response cover for issues that need to be addressed urgently. We also have assistance during your trip for any request. PARIS BY EMY is a French local company so you have complete peace of mind while on tour.
Tones of services custom made
Ask for a real tailor-made trip according to your field of study and the services you want to have :
Custom Made Services by PARIS BY EMY
Prices depend on the number of people in each Paris Tour Package and Private Tour Guide
Unlimited exchanges to plan your trip according to your budget and aspirations
Airport hotel transfer with private chauffeur
3 accommodation recommendations, verified by PARIS BY EMY, according to your criteria
Personalized trip via 10 themes such as Parisian Icons, French Cuisine, Landmarks, Sacred Places...
Welcome Meeting within Paris at your convenience – day time & place of your choice
Private Tour Guide Paris in English for 1/2 Day(s), full Day(s), Evening(s)
Private Tour Guide Paris in English with a private chauffeur
Parisian social events, exhibitions, festivals recommendations, according to your profile
"The Roadmap", an itinerary, tailor-made, easy to read on smartphone
"The Travelogue", a travel guide booklet, tailor-made, easy to read on smartphone
Permanent online Assistance during your visit for any questions
Assistance 24/7 in case of emergency
Recommendations for any type of services, suppliers and activities in Paris
Special Event organization such as anniversary, marriage proposal, honey moon
Reservation made for hotel, airport chauffeur, restaurant, concert, opera, …
Skip the line entrance ticket for museums and landmarks
And more if you need more !
If the quote, sent by email,  is accepted by the customer, billing and payments occur online, payment with a credit card or a bank-transfer. Several billing and payments can occur in the case of the customer needs to make a deposit and/or wants to add services. Deposits are not refundable.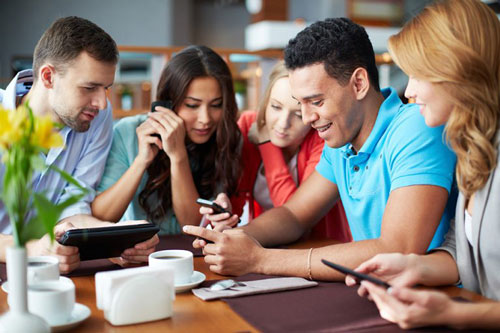 Student Tours on French & Linguistics teaching
Let's discover and practice French through many ways. Paris has the world's highest density of bookstores per capita. Discover the French writers of today, get into a French reading club, a French poetry club, practice your French into a writing club, go to a French classical play in one of the great institutions of Paris, sightseeing in French. Get a customized Student Tours Paris, your way.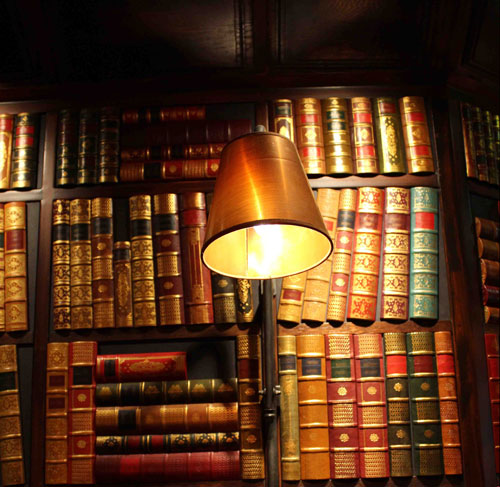 Student Tours Paris for Literature classes
For example, you are in Literature class. You come to visit Paris for a week. You may ask for a journey on the famous writers who worked and lived in Paris, such as Hemingway, James Joyce, Scott Fitzgerald, Gertrude Stein, Oscar Wilde, Victor Hugo, Emile Zola, Honoré de Balzac, Georges Sand, Colette, Rimbaud, Baudelaire and many others. Discover the places where they used to live, where they got inspired by the City of Lights, enjoy a cup of coffee in their favorite café… Discover on my blog Ernest Hemingway's article
---
Teachers, add your brick to the edifice
---
Support for Study Abroad Program
One of the best education system in the world
France has an excellent academic reputation. The French higher education system is one of the best in the world, perfect for international students. Studying in France remains an affordable option for international students who seek a quality higher education. Tuition rates in France's public institutions of higher education are identical for domestic and international students.
French universities are on the top of renowned university rankings each year. France is particularly a good choice for those wanting to study business and research related subjects. The country is a hub for international business, research, management education, and has lots of business schools in the worldwide rankings.
Affordable tuition with high institution
Tuition costs are set every year. In 2017, average annual tuition costs for undergraduate studies were less than €200 (under US$250). For master's studies, the rates are around €259 (around US$305) and for doctoral studies it's around €393 (US$460). Students are often required to pay certain administration fees which raise tuition costs slightly. If you wish to study at a private institution, the rates tend to be much higher and go up to €10,000 (US$12,000) per year.
There are currently more than 250,000 international students in France. Around 10% of enrollments at French universities are international students, at graduate level (masters and doctoral studies). The country offers an excellent environment for all international students. It has fantastic quality of education, lectures and research opportunities.
If you are on a study abroad program, getting into a French school or University in Paris for couple weeks during summer, for a semester, you may ask PARIS BY EMY to give you help to prepare your stay and to provide you according to your objectives and budget, a customized support.
Ask for support from a Parisian company
Wether you are an undergraduate student or a graduate student, you may ask help for :
Choosing an university, choosing classes, helping for registration, visa process
Lodging, groceries, metro transportation, … to optimize your experience abroad
Study in Paris offers an excellent journey for international students who want to study at a prestigious institution while experiencing the city in all its beauty.
Upholding for University Business Trip
Need to go to an international conference in Paris ?
Ask us to support you. If you are a student or a professor travelling to Paris, PARIS BY EMY help you to identify the best deals for lodging, sightseeing, dining, transportation… according to your expectations and budget. We deliver savings to your travel budget : time and money. Wherever you need help in optimising the way you book your trip or you're looking to visit Paris during your free time, we are here to serve you.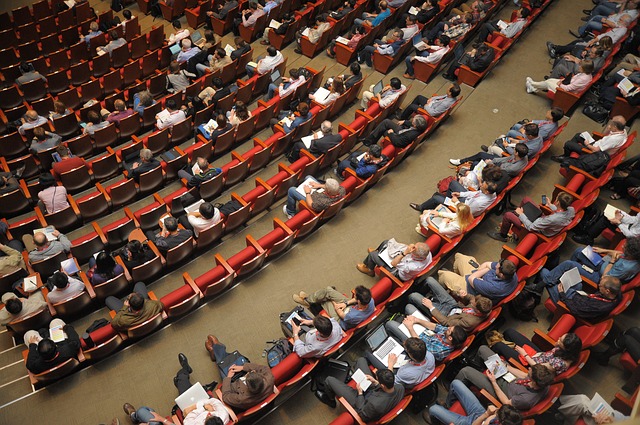 Seminars and open access conferences
City of art and culture, Paris has lots of social events and activities. From the Sorbonne University to the College de France, great places offer savoir vivre experiences, colloquiums, seminars and open access conferences. Many cultural sites, museums, schools and associations organize free lectures in a wide variety of fields.
PARIS BY EMY informs you about all the conferences, lectures, social events and cultural programs of the city that fit in your field. Paris is very active all year long, throughout the seasons. Travelling becomes a strong human experience.
Student Tours Paris in Cosmospolitan Paris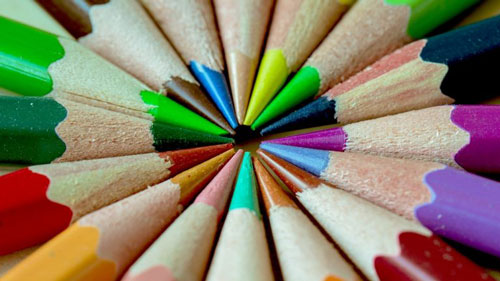 Paris is a cosmopolitan city. You may discover the Latino Tango and Salsa classes in famous places or by the Seine, Asian districts, la Maison de la Culture du Japon, Indian living quarters, le temple Ganesh, English & Irish Pubs, African restaurants, the Jewish neighborhood, the Institut du Monde Arabe, the American church of Paris, the Russian Orthodox Cathedral, La Maison du Danemark, European cultural centers and many other places from all continents.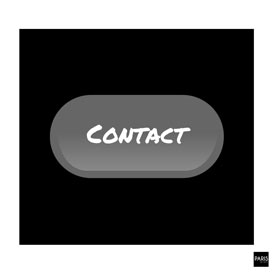 ---
Student Tours Paris with Private Tour Guide
Have a knowledgeable Student Tours Paris with fun according to your objectives and field of study. Optimize your time and budget – Follow your aspirations – Have an authentic insight into French culture within your field of study with a local expertise.
Student Tours Paris via customized themes
According to your objectives, we create your trip via your field of study and 10 themes such as
Parisian icons
Food & drink
Art & museums
Sacred places
Landmarks & sightseeing
Shopping
Entertainment
Green Paris
Outside Paris
Specific thematic tour
One of the oldest universities in the world
The Sorbonne owes its name to its founder, Robert de Sorbon, Chaplain and confessor of King of France Saint-Louis (Louis IX).  Emerging around 1150 as a corporation associated with the cathedral school of Notre Dame de Paris, the University is born in the XIIIth century. Primitively settled on the Island of the City, the latter came, from the XIIth century, in the future "Latin Quarter", left bank of the Seine, where the theology, the law, the medicine and the arts were taught, outdoor, young people coming from 4 Nations, so conferring to the University, from the start, an international prestige.
---
Hic et ubique terrarum (Latin, Here and anywhere on Earth)
---
In 1793, during the French Revolution, the university was closed and by Item-27 of the Revolutionary Convention, the college endowments and buildings were sold. A new University of France replaced it in 1806 with four independent faculties: the Faculty of Humanities (French: Faculté des Lettres), the Faculty of Law (later including Economics), the Faculty of Science, the Faculty of Medicine and the Faculty of Theology.
---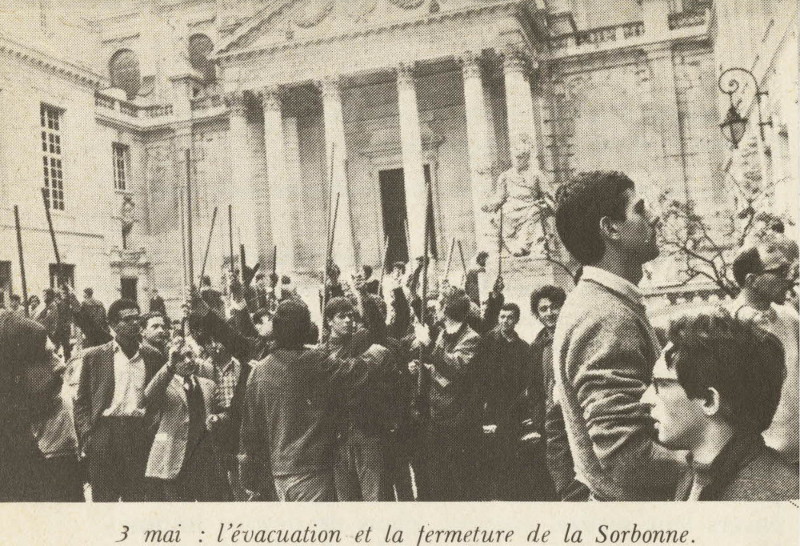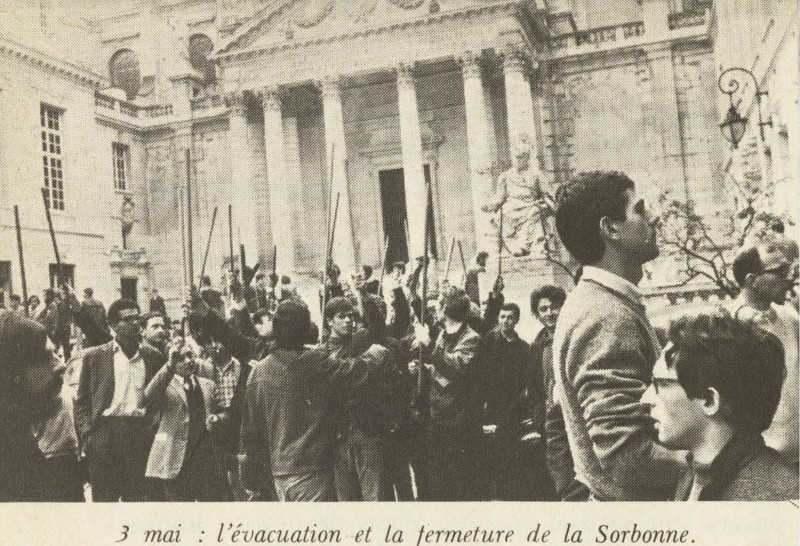 MAI 68 : The biggest general strike, starting at the Sorbonne students protests against capitalism, consumerism, American imperialism, traditional institutions, values and order. 11 million workers, more than 22% of the total population of France at the time, for two continuous weeks were involved in Mai 68. It brought the entire economy of France to a virtual halt.
---
In 1970, following the May 1968 events, the university was divided into 13 autonomous universities. Although all the thirteen universities that resulted of the original University of Paris split can be considered its inheritors, just three universities of the post-1968 universities embodied direct faculties successors while inheriting the name "Sorbonne", as well as its physical location in the Latin Quarter: the Pantheon-Sorbonne University (Paris I; law); University of Paris III: Sorbonne Nouvelle; and Paris-Sorbonne University (Paris IV; humanities).
Saint Thomas d'Aquin one of its teachers
In 1245, Saint Thomas d'Aquin left Italy, clerical and aristocratic privileges to study & teach at the Sorbonne. At that time, Kings, Popes would go to study at the University of Paris for its new ideas, visionary leadership and Excellence.
He was an immensely influential philosopher, theologian, and jurist in the tradition of scholasticism, within which he is also known as the Doctor Angelicus and the Doctor Communis. He was the foremost classical proponent of natural theology and the father of Thomism.
---
Saint Thomas d'Aquin argued that reason is found in God
---
His influence on Western thought is considerable, and much of modern philosophy developed or opposed his ideas, particularly in the areas of ethics, natural law, metaphysics, and political theory. Thomas embraced several ideas put forward by Aristotle—whom he called "the Philosopher"—and attempted to synthesize Aristotelian philosophy with the principles of Christianity. Below, Saint Thomas d'Aquin.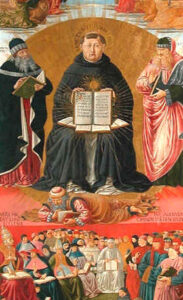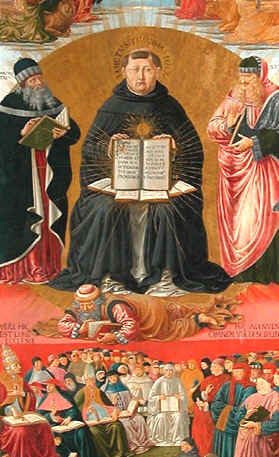 The Catholic Church honors Thomas Aquinas as a saint and regards him as the model teacher for those studying for the priesthood, and indeed the highest expression of both natural reason and speculative theology. In modern times, under papal directives, the study of his works was long used as a core of the required program of study for those seeking ordination as priests or deacons, as well as for those in religious formation and for other students of the sacred disciplines (philosophy, Catholic theology, church history, liturgy, and canon law). Below, A meeting of doctors at the university of Paris. From the "Chants royaux" manuscript, BNF, Paris.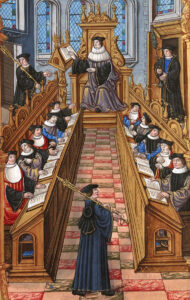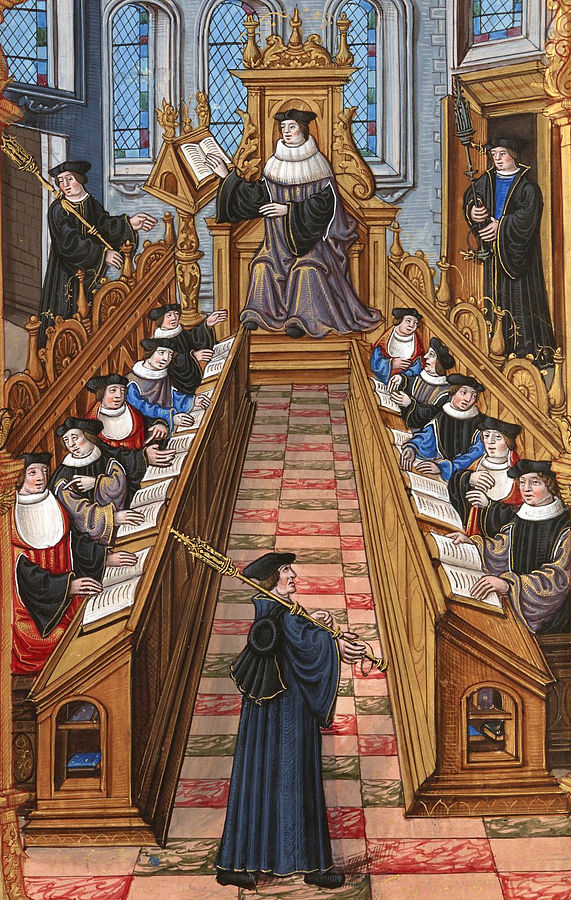 The Sorbonne nowadays
Today, the Sorbonne University is a public research university, established by the merger in 2018 of Paris-Sorbonne University, Pierre et Marie Curie University, and other institutions.
---
50,000 students in 14 teaching and research departments,
8,000 of whom are from outside France
---
At the same time, Sorbonne Universities Association was renamed to Alliance Sorbonne Université and groups the following institutions for academic cooperation such as the National Museum of Natural History established in 1635, the Centre National de la Recherche Scientifique CNRS, the Pôle supérieur d'enseignement artistique of Paris Boulogne-Billancourt PSPBB, the Business School of the world INSEAD, …
The Business School of the world INSEAD is proud to be associated with the Sorbonne University as a member of the Alliance Sorbonne Université. Its ten members have a shared vision favouring a global approach to education and research, combining the fields of the Arts, Humanities, Medicine, Science, Engineering, Technology, and Management.  The diversity of the members of the Sorbonne University Alliance favours encourages a global approach to education and research. It promotes equal access to knowledge and develops numerous shared programmes and projects in degree programmes, continuous and lifelong education in all disciplines, in research and innovation, and in the diffusion of their findings.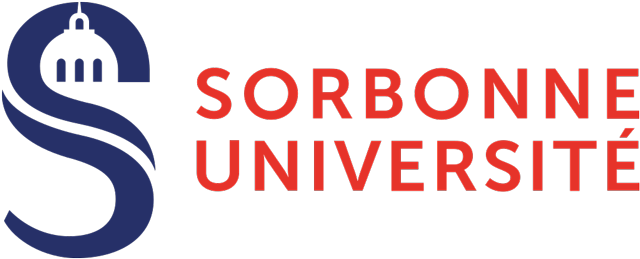 The Sorbonne University has 3 faculties; additionally, Law is taught by Panthéon-Assas University.
Letters are the more ancient teachings of the Sorbonne University. Classical and Modern Letters, Archeology, Art History, Languages, Linguistics, Literature, Social Sciences such as Sociology, History, Geography, Musicology, Philosophy, Sciences of Information and Communication and the Science of Education are part of this faculty.
The Faculty of Science of Sorbonne University is a major research institution in France. It can be considered the successor in direct line to the Faculty of Science of the University of Paris. It has more than 125 laboratories, in association with the Centre national de la recherche scientifique (CNRS). Some of its most notable institutes and laboratories include the Institut Henri Poincaré (Mathematics), Institut d'astrophysique de Paris (Astrophysics), LIP6 (Informatics / Computer Science), Institut de mathématiques de Jussieu (foundations of Mathematics, shared with University Paris-Diderot) and the Laboratoire Kastler-Brossel (Quantum Physics, shared with École Normale Supérieure).
The faculty of Medicine is located in the teaching hospitals Pitié-Salpêtrière and Saint-Antoine (the latter itself being the successor to Saint-Antoine-des-Champs Abbey).
---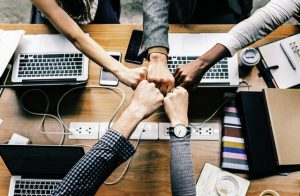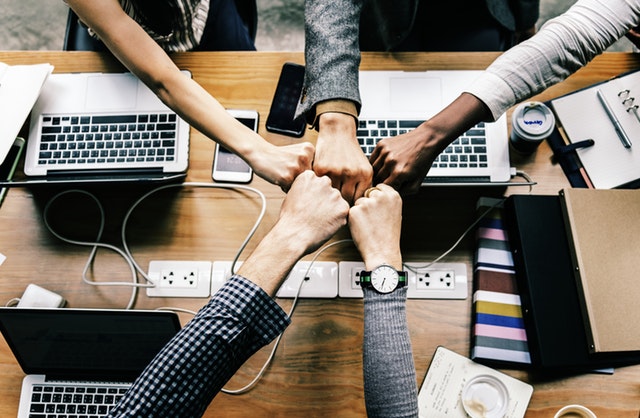 For a genuine personalized Student Tours Paris
---